Before Braille: A Brief History of Visual Impairment and Education PT 1
Education for people with disabilities has had a fraught history, with attitudes and methods taking centuries to become systemic, to become truly valuable to the communities who need it the most. Resources and technologies were slow to come due to the societal stigma around disability. This was no different for visual impairments in particular.
This long period of development, however, has yielded a slow but rich history of education for people with visual impairments. And we can trace this history back even further than Braille.
Early Global Attitudes Towards Visual Impairment
Early attitudes towards visually impaired people across the world can be broadly divided into three ages of
(1) indifference or segregation
(2) pity and humanitarianism; and
(3) self-reliance and social integration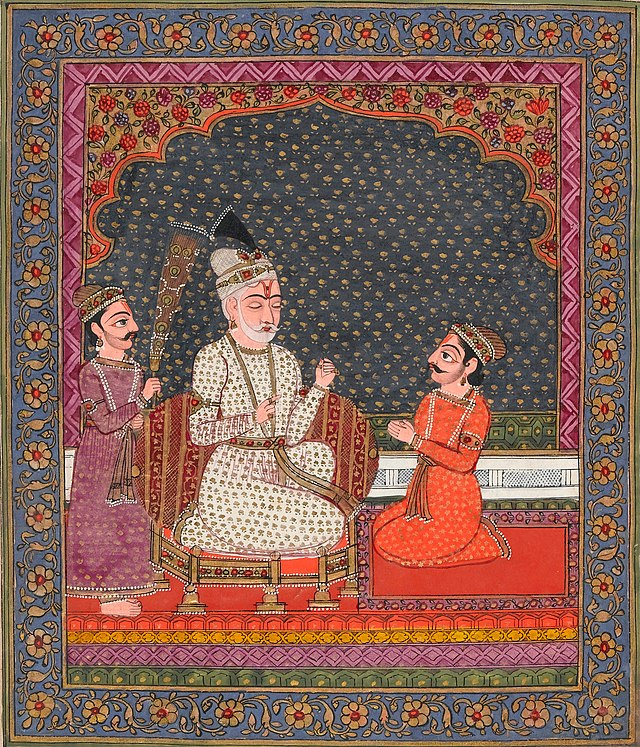 In ancient India, for example, while the mythology and history generally advocated for the rulers and families to take care of people with disabilities, they were often described as weak or as atoning for past sins. European attitudes were more negligent in earlier centuries, often ostracizing people with disabilities from communities. Even as the sighted population's access to information moved away from the oral with the introduction of the printing press in Europe during the 15th century, the blind became more and more isolated from intellectual advancement by having to rely on the sighted for their information.
Literacy, reading and writing was hampered. This gap in a means of literacy for the visually impaired was caused in part by technological problems but also by a lack of understanding of the needs and capabilities of those lacking the sense of sight. John Milton, the famous poet, had to write by using his sighted daughters' help after losing his sight.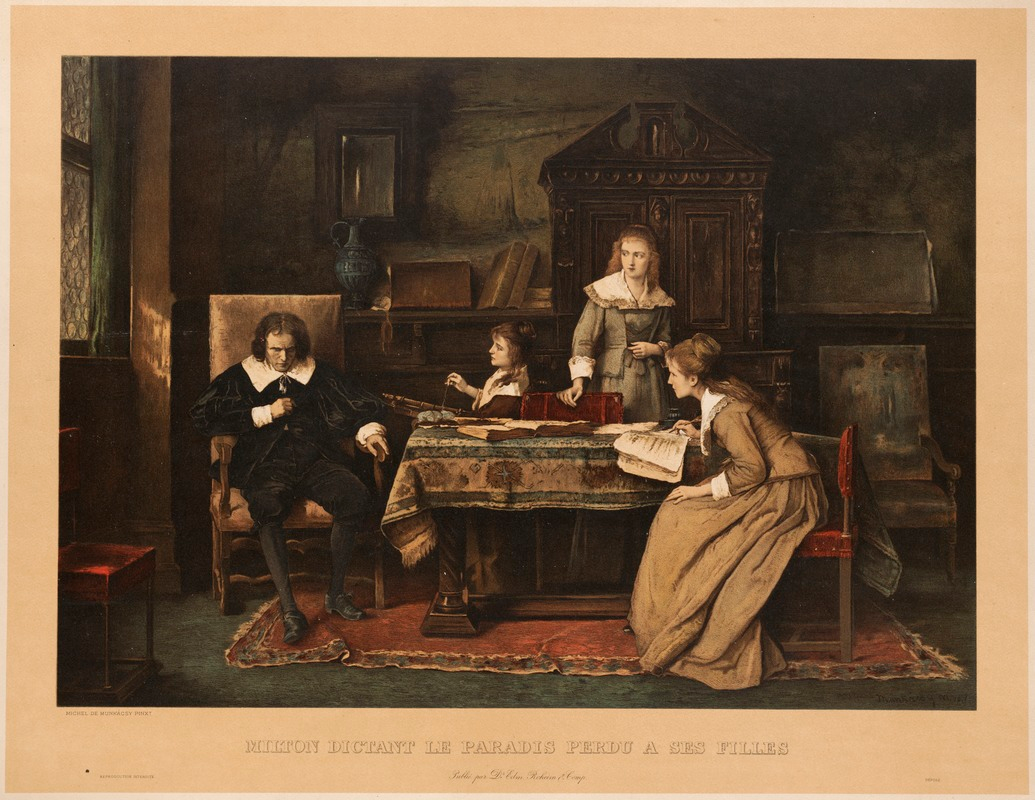 It was as conceptions of 'charity' became widespread in Western society that there was a shift in societal attitudes towards - but limited to - assisting people with disabilities. A major source of this philosophical groundwork for educating persons with visual impairments was laid by Denis Diderot, a philosopher who published Letter on the Blind for the Use of Those Who See in 1749, much of which was based on his contacts with Nicholas Saunderson, a mathematics professor at Cambridge; and Maria Theresia von Paradis, a Viennese pianist and music teacher, both of whom were visually impaired. The competence of Saunderson and von Paradis convinced Diderot that people who were blind could be intellectually capable and could lead regular lives.
This paradigmatic shift towards the autonomy of visually impaired persons accelerated efforts for their social inclusion. A key part of this was evidently to be their education.
Early Modern Education for the Visually Impaired
Even as societal attitudes to the education of the blind and visually impaired were changing for the better, early attempts to educate them were usually made by tutors to the children of the wealthy. Furthermore, prior to the 18th century, none of the scattered attempts to educate children with visual impairments resulted in the development of systematic programs.
Furthermore, the earliest teachers of the blind were self-trained in their methods and were often unaware of the work and successes of others. Any progress languished. Only in the late 18th century did formal training commence.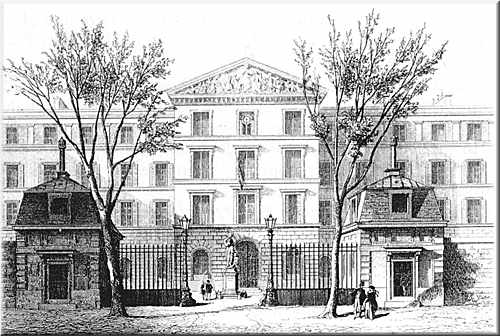 The first notable charitable educational institute for the blind was the L'Institution Nationale des Jeunes Aveugles (The National Institution For The Young Blind), opened in Paris in 1784 by Valentin Haüy, where he experimented with various sizes and forms of raised Roman letters to teach students who were blind to read. With demonstrations of the pupils' talents in art and music, Haüy hoped to elicit admiration for the students' competence, not pity for their blindness.
While the first school for the blind in England opened in Liverpool in 1791, it took a while longer for the United States, with the New England Asylum for the Blind being incorporated in Watertown, Massachusetts in 1829. It was this institution that would go on to become the venerable Perkins School for the Blind, with Samuel Gridley Howe - who traveled through Europe to learn how the blind were being educated there - as its first superintendent. Howe's credo was that blind children shouldn't suffer from lack of self-esteem, which convinced him of the importance of fostering independence and self-reliance among his pupils.
Valentin Hauy and the Perkins School trained teachers on an apprenticeship basis. Commonly, teachers were themselves blind graduates of the institutions at which they taught. This was largely based on the notion that only the visually impaired person can really say what they can, or cannot, see. Since every student is an individual with individual needs, it was believed that only members of the community could adopt pedagogies and teaching strategies which suited visually impaired students.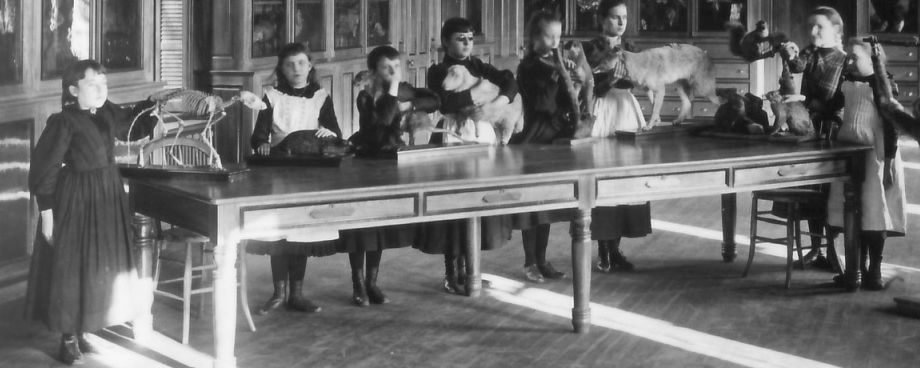 Throughout the 19th century, residential schools were usually the sole option for the education of children with visual impairments. One reason was that public schools were seen as incapable of meeting the requirements of visually impaired children: their staff lacked training special education and the schools themselves were unsafe environments for children with limited mobility. Another was geographic necessity, owing often to the low population density of blind children - these schools were set up in large cities with populations of children with visual impairments that were sizable enough to justify the provision of specialized services.
Such schools were being established in the same periods in India too. The Bengal Military Orphan Asylum, Calcutta, having blind orphans in its school, adopted the Lucas reading system by 1840, although this system was overtaken by Moon's embossed type for blind readers in several Indian languages during the 1850s. These children seem to have been the first in South Asian history to be educated in a school with a formal system designed for their needs, with supplies largely provided by colonial authorities. The first special school for the blind in India was set up at Amritsar in 1887 - the Sharp Memorial School for the Blind, named after its founder, Annie Sharp. In subsequent decades, several special schools came up in different parts of the country, such as the Calcutta School for the Blind founded by Lal Bihari Shah in 1897, the American Marathi Mission School for the Blind in Mumbai in the year 1900, which came to be known as "The Dadar School for the Blind." Here, blind children received education along with some elementary trades that later led them to some kind of vocational rehabilitation.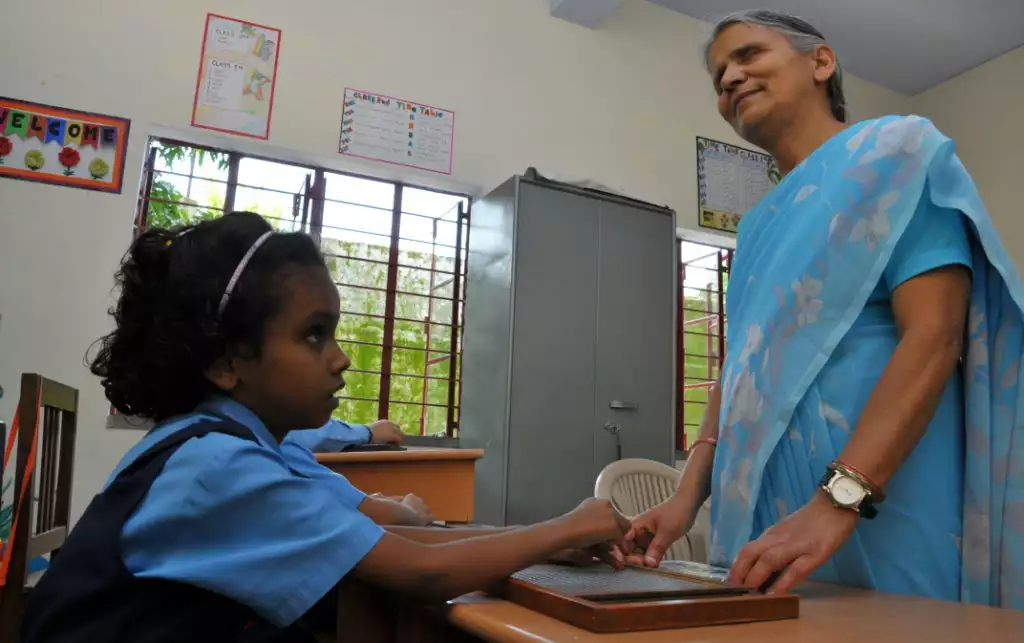 However, as public schools themselves improved and teacher training included provisions for special education, pioneers such as Howe advocated the right of all visually impaired children to a free public education, as opposed to institutions away from society-at-large's sight, which was often seen as society meeting its obligations but also potentially as a way to forget the disabled. In India, not much was seen to be achieved in the socioeconomic conditions of the blind through the residential system of education. There were other concerns too – isolation from mainstream, the standard of education and expensive nature of the system. Educational leaders also empathized with the need for young children to remain at home with parents and siblings, and to associate with sighted children in inclusive settings.
Alongside these attitudinal and educational shifts, there would come to occur a landmark moment in the education of the blind and visually impaired, courtesy the most famous pupil of Valentin Haüy's school - Louis Braille.
In part 2, we'll look at the evolution of education for visually impaired children due to the acceptance and influence  of Braille, including its use in technological resources like Annie.